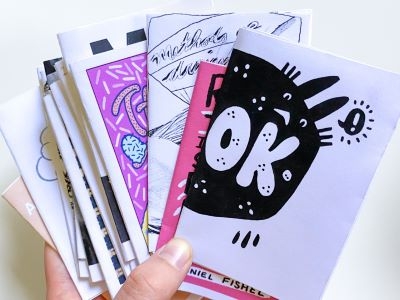 In May, when we were staying safer at home, artists Tracy Honn and Katie Garth came up with an idea to inspire us and keep us connected. They asked fellow artists to contribute books made with one sheet of paper, folded to make eight pages, for their Quarantine Public Library. It launched mere weeks later with more than 40 books filled with illustrations, photos, poetry, stories and even responses to Black Lives Matter. This month 20 new books will be published on the website, and you can print, fold and read them all for free, though donations are welcome. If you're inspired to make a book, QPL provides both a template and step-by-step instructions. This is a fun project for all ages and an activity that homeschooling parents could add to the curriculum. Honn and Garth recently took time to answer our questions about QPL; an edited version of their responses appears here.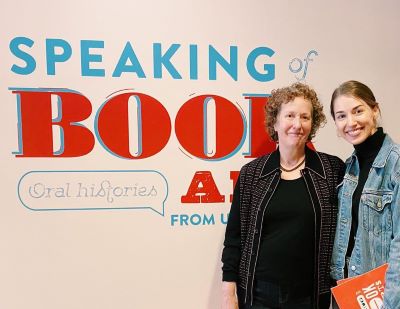 The books in QPL's collection are all pretty different, and that's part of what makes reading them fun. Did you reach out to artists with this variety in mind, or did it happen organically?
Tracy Honn: We wanted variety and talked about our hopes for submissions, but in some ways it was like throwing a potluck dinner party—you are hoping for a good mix. We weren't trying to control any particular outcome as much as laying ground by selecting artists who did cool work, and who we thought would respond to the idea of the project.
Katie Garth: We aimed for representation across media, tone, discipline and identity. In any curatorial project, there's a balance between cohesion and range; the tight prompt and our shared interests allowed for the former to develop naturally. But as a nexus for words and images, books—and the one-sheet form in general—are incredible tools to showcase a variety of approaches, from line poetry to abstraction to comics and nonfiction. We were excited by the structure's unifying potential.
What surprised you most about this project?
TH: Every book was a surprise. We didn't know what artists would do, and then the books began to come in and it felt like a party. The real surprise for me is that Katie and I could go from "let's do it" to producing QPL in such a short time. The site itself is a form of encouragement to others, and on the back end, it is an encouragement to me to know something new can happen on your own say-so; something spirited that is understood and valued by other people. That is deeply satisfying.
KG: Our project is special and sustaining to me, but I am still pleased to see friends and strangers spending time on the site when so many other projects are surfacing and vying for their attention. It seems like QPL gives some of its audience permission to look more slowly; even though the books are relatively quick and satisfying, they provide an opportunity for immersion that feels quiet and safe.
What advice do you have for people ready to make their own one-sheet books?
TH: Fold lots of paper! If you are composing a sequence, think of each page like a beat, or a line of poetry. Read it out loud! I am fond of books that have a clear beginning, middle and end. The form is big enough for a narrative arc. Eight pages may not seem like a lot, but when you begin to make your book it starts to become this whole big world. Editing is everything.
KG: Do what seems obvious to you—it will surprise someone else.
QPL is collecting donations for EveryoneOn, a nonprofit that helps make internet access and computers more affordable for low-income families. Why did you choose to support this organization?
TH: As Katie would say, it checked all the boxes. When we looked for the right thing we were thinking about artists' books, libraries and literacy. Then she found EveryoneOn. (https://www.everyoneon.org) Since we knew the pandemic meant there was an urgent need for students to have access to computers and the internet, this seemed perfect.
KG: Our project focuses on a type of community access that we personally find meaningful; we wanted to fill the vacuum that suddenly appeared by creating an alternative shared space for finding joy and exploring new ideas. As we put energy into QPL, it felt important to remind ourselves and our audience that many others don't have immediate access to life-sustaining digital services—utilities, education, medical information, news, weather—let alone online art communities, and to contribute to efforts to correct that imbalance.
What do you think of the maker movement in libraries? How can libraries support artists in their communities and collaborate more effectively on programs for patrons?
TH: The critical thing is not to think a particular library has to have a space that looks and feels like one elsewhere, but to see that the philosophy that comes from the makerspace movement can be applied in ways that fit local needs. It takes one individual in an institution who wants to collaborate newly with communities; someone who is listening to people and thinking about the tools of the institution that can be leveraged or shared in ways that go beyond traditional library transactions. Money is great, but time and passion (with support from admin) are the most important ingredients for effective programs.
KG: I see the maker movement in libraries as just one of many creative responses to the changing needs of library patrons, and I expect we will see more cross-disciplinary thinking as society decides together just what it means to borrow information. I'm interested in approaches like public tool and cooking libraries, where these institutions are really fulfilling specific community needs. As artistic and creative spaces continue to grow within libraries, I hope similar attention is paid to how these spaces can serve the most vulnerable members of the public.
Photo 1: Artists' books in QPL's collection
Photo 2: QPL co-founders Tracy Honn and Katie Garth