Reserve a Room
Please call the library for information about library rooms as information listed below may not reflect current capacity and safety guidelines. (414) 321-9595 ext. 4105
Library Room Reservation and Use Policy
The Library has two meeting rooms available for your meetings, classes, music recitals and events.
Community Room
The Community Room is a large room just off the lobby that accommodates up to
100 people auditorium style. Planning a Lunch-N-Learn or celebratory gathering?
There are tables and chairs, as well as a kitchenette with a refrigerator, sink,
microwave and pass-through window to the Community Room.
The Community Room also has an upgraded projector, sound system and screen
for your presentations. There is an additional cost for use of the equipment.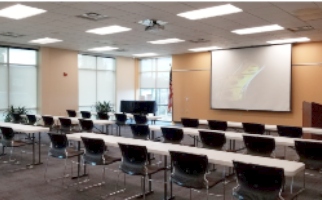 Conference Room
On the second floor is the Conference Room with a large conference table, leather
chairs, a state-of-the-art projector, screen and teleconferencing capable equipment.
The Conference Room is a great place to hold a
smaller meeting. There is room for 12 seated at the table, but extra chairs can be
set up to accommodate up to 20 persons maximum in the room. There is an additional
cost for use of the equipment.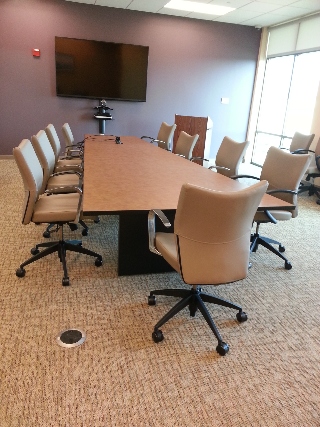 For inquiries about room availability, please call Sherril at (414) 321-9595 X4105