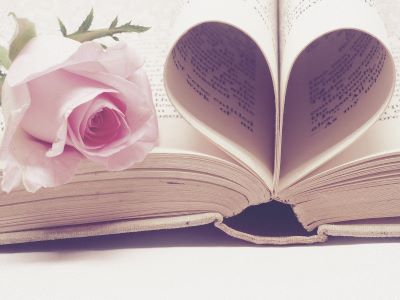 Chances are, if you are reading a blog on a library's website, you probably really like books. Like, really like books. Love books even.
Bibliophilia, or the love of books is a real thing. It can be displayed in many forms.
Some people just like to read books.
Some people just like to collect books.
Some people just like to hoard books (that's healthy, right?).
Some people like that old book smell.
Some people still buy books new even though libraries exist.
Some people like to stack their books and read them.
Some people like to stack their books and never read them.
Some people just read books electronically.
Some people just listen to others read books to them.
Some people can't live without having a book around them all the time.
Some people just seek out autographed copies or first editions.
Some people just like the illustrations.
Some people long to share their love of certain books by giving copies to others.
No matter how you show your love for books, I think that we can all agree that it is amazing that something as simple as written thoughts recorded by ink on paper could create such a loving, personal connection for so many people for so long. What isn't there to love about that?
---
Below are some books that Greenfield Library Staff love and the reasons why. Perhaps you could find a new favorite book here as well.
MICHELLE
SIGNS OF LIFE: A DOCTOR'S JOURNEY TO THE ENDS OF THE EARTH AND BACK – Stephen Fabes
Recently self-published, the author writes of taking a sabbatical from his job as a young ER doctor in a London hospital. Feeling stuck in his profession, and with a serious case of wanderlust, Fabes embarks on a 6 year long bicycle trip around the world. Reminiscent of Bill Bryson's "A Walk in the Woods" there are funny, touching and eye-opening stories of his encounters with the locals and their customs, and of adventures with his traveling companions along the way.
MEGAN
THE LAND OF STORIES: THE WISHING SPELL – Chris Colfer
If I had to choose one title it would be The Land of Stories: The Wishing Spell by Chris Colfer because I am a lover of fantasy and fairy tales, and when I saw the book cover it pulled me right in like the actual Land of Stories book pulled Alex and Conner into the World of Fairy Tales as I was pulled along with them as I read the book. It's a book I couldn't put down and when I finished the first one, I had to know what happened next which got me to reading the other volumes up to the last book which I am currently on now Worlds Collide. I even read the prequel books A Tale of Magic and A Tale of Witchcraft which is a set up to The Land of Stories that takes place years before Alex and Conner were born.
MARK
SOMEBODY LOVES YOU, MR. HATCH – EILEEN SPINELLI
THE SILENT GONDOLIERS – WILLIAM GOLDMAN
THE FIONAVAR TAPESTRY TRILOGY – GUY GAVRIEL KAY
I know you asked for one, but I've got two plus a bonus trilogy. (Who can limit themselves to ONE book that they love? Not me!)
Somebody Loves You, Mr. Hatch by Eileen Spinelli is a favorite picture book. Mr. Hatch is a quiet man, who lives alone, little interacting with his neighbors or co-workers. Then, an unexpected gift of chocolates with a note that says "Somebody loves you." arrives through the mail. The ending always makes me tear up. (In a good way.)
The Silent Gondoliers by William Goldman I give copies of this book to my closest friends. If you know this book, and love it, then you are a friend of mine.
The Fionavar Tapestry (The Summer Tree, The Wandering Fire, The Darkest Road) by Guy Gavriel Kay is my favorite fantasy trilogy. Yes, even over The Lord of the Rings. Let that sink in.
NADIA
HOMEGOING – YAA GYASI
One book that I LOVE is Homegoing by Yaa Gyasi. Homegoing is a book of interlinked short-stories that follows several generations beginning in 18th-century West Africa and ending in the present day U.S, so it is a very carefully plotted book. I think that it is important to read to understand both the immediate human toll of slavery and its long-run effects on African societies and people of African descent everywhere.
EMILY
ELEANOR OLIPHANT IS COMPLETELY FINE – Gail Honeyman
This book has everything I love -- quirky characters that are beautifully complex and flawed, a hopeful storyline that made me laugh and cry, and a main character fighting her inner demons to overcome adversity, leaving readers with a satisfying ending.
CHRISTINE
GROUP: HOW ONE THERAPIST AND A CIRCLE OF STRANGERS SAVED MY LIFE – CHRISTIE TATE
A book I recently read and love is Group: How One Therapist and a Circle of Strangers Saved My Life by Christie Tate. I love this book because I really enjoy books about therapy. I also love this book because it's funny, well-written, deeply personal, and relatable. I rooted for the author the whole time and she goes into detail about her healing process with all the setbacks and triumphs it entails. Great book!
SHERRIL
THE GREAT ALONE – Kristin Hannah
A beautiful, emotionally compelling book that is a fascinating, albeit depressing escape into the drama filled life of a post-Vietnam, 1970's era family who are changed forever by a very volatile father and husband suffering from PTSD. The author was also able to illustrate a beautiful depiction of life in rural Alaska. If you like books that stick with you long after the book is read, The Great Alone may be the perfect for you.
PHIL
THE OLD MAN AND THE SEA – Ernest Hemingway
The Old Man in the Sea is a masterpiece in so many ways. The slow, deliberate pacing is incredible. The internal struggle of the old and desperate Santiago fighting a gigantic marlin is harrowing and tragic. Hemingway puts you in the boat with Santiago and you cannot help but feel hopeful and helpless for him at the same time. It is a book about getting old. It is a book about man's cruel relationship with mother nature. It is a book about desperation and loss. And it is all wrapped up in 127 pages. It is beautiful and it is Hemingway and writing at its best.
GLORIA
THE NIGHT CIRCUS – Erin Morgenstern
It's a hard book to summarize, but basically two young magicians, Celia and Marco, have been selected and trained for a magical competition. This battle takes place at a mysterious circus that only appears at night. To make it even more peculiar, the contestants don't really know the rules, who they are competing against, or how a victor is chosen. And when they start falling in love with each other things get really complicated.