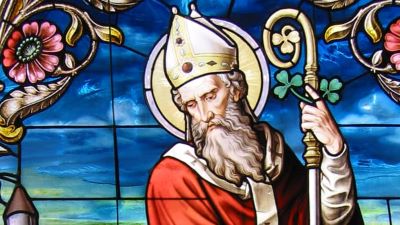 It's March. That means that the weather is warming up (hopefully), the Brewers are training in Arizona, Shamrock Shakes are back at McDonalds, and it is St. Patrick's Day season. Whether you celebrate by wearing green clothes or drinking green beer, St. Patrick's Day is a fun day to pretend that we are all a little Irish.
But how much do you know about the namesake himself? St. Patrick was born late in the fourth century to an aristocratic British family. Patrick's life was changed forever when he was abducted by pirates and taken to Ireland just before his sixteenth birthday. He spent six grueling years there as a slave, but the ordeal turned him from an atheist into a Christian. After a vision in which God told him he would go home, Patrick escaped captivity and, following a perilous journey, returned safely to Britain to the amazement of his family. But even more amazing to them was his announcement that he intended to go back to Ireland to spend the rest of his life ministering to the people who had once enslaved him. He is the patron saint of Ireland and the reason for our fun on March 17 today.
To honor St. Patrick and the Irish people, below are a number of Irish history and biography titles. Check one out. Sláinte!
ST. PATRICK OF IRELAND: A BIOGRAPHY – Philip Freeman
Want to know more about the holiday's namesake? Here is a good (and short) bio of the man himself. Philip Freeman brings the historic Patrick and his world vividly to life. Patrick speaks in his own voice in two remarkable letters he wrote about himself and his beliefs which are still astonishing today.
HOW THE IRISH SAVED CIVILIZATION: THE UNTOLD STORY OF IRELAND'S ROLE FROM THE FALL OF ROME TO THE RISE OF MEDIEVAL EUROPE – Thomas Cahill
In this entertaining and compelling narrative, Thomas Cahill tells the story of how Europe evolved from the classical age of Rome to the medieval era with Ireland taking center stage. Cahill argues that without Ireland, the transition could not have taken place. Not only did Irish monks and scribes maintain the very record of Western civilization – copying manuscripts of Greek and Latin writers, both pagan and Christian, while libraries and learning on the continent were forever lost – they brought their uniquely Irish world-view to the task.
THE GRAVES ARE WALKING: THE GREAT FAMINE AND THE SAGA OF THE IRISH PEOPLE – John Kelly
This compelling book looks at one of the worst disasters to strike humankind – the Great Irish Potato Famine and all the horrors that went along with it. It also provides on the role of Britain and their attempt to use the famine to reshape Irish society and character. A difficult, but essential Irish read.
SAY NOTHING: A TRUE STORY OF MURDER AND MEMORY IN NORTHERN IRELAND – Patrick Radden Keefe
Deemed one of the best non-fiction books of the 2010s, this book discusses the reasons for, and impact of, political violence in Ireland and Northern Ireland. In December 1972, Jean McConville, a thirty-eight-year-old mother of ten, was dragged from her Belfast home by masked intruders, her children clinging to her legs. They never saw her again. Her abduction was one of the most notorious episodes of the vicious conflict known as The Troubles. This is a fascinating book and it goes deep into the minds and lives of IRA operatives. See a society wracked with violence and its troubling story and aftermath that is often misunderstood in America.

ANGELA'S ASHES – Frank McCourt
What Irish reading list could there be without Angela's Ashes? This early-life memoir follows the experiences of young Frank McCourt and his family as they try against all odds to escape the poverty endemic in the slums of pre-war Limerick. The books opens with the family in Brooklyn, but following the death of one of Frankie's siblings, they return home, only to find the situation there even worse. A Pulitzer Prize-winning book with a successful film adaptation.