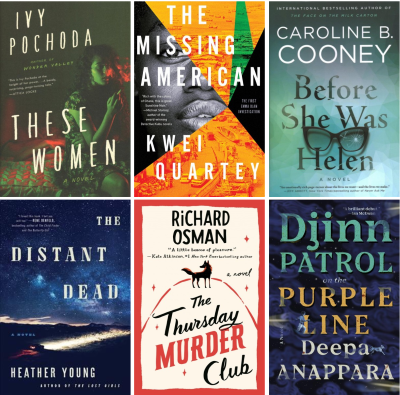 Since 1946, the Mystery Writers of America have presented the Edgar Awards, widely acknowledged to be the most prestigious awards in the mystery genre. Named after American writer Edgar Allan Poe, a pioneer in the mystery writing, the awards honor the best in mystery fiction, non-fiction, television, film, and theater published or produced in the previous year.
The MWA is the premier organization for mystery writers, aspiring crime writers, and those who are devoted to the genre. The organization encompasses some 3,000 members including authors of fiction and non-fiction books, screen and television writers, as well as publishers, editors, and literary agents.
The most prestigious Edgar is for "Best Novel." Greenfield Library will soon have all of the novels up for "Best Novel" for the 2021 Edgar Awards in our collection (missing one now; on order). Please feel free to come and get or put on hold one of these great nominees!

BEST NOVEL
DJINN PATROL ON THE PURPLE LINE – Deepa Anappara
Based on a true story--Nine-year-old Jai watches too many reality police shows, thinks he's smarter than his friend Pari (even though she gets the best grades), and considers himself to be a better boss than Faiz (even though Faiz is the one with a job). When a classmate goes missing, Jai decides to use the crime-solving skills he has picked up from TV to find him. He asks Pari and Faiz to be his assistants and together they draw up lists of people to interview and places to visit. But what begins as a game turns sinister as other children start disappearing from their neighborhood. Jai, Pari, and Faiz have to confront terrified parents, an indifferent police force, and their fears of soul-snatching djinns. As the disappearances edge ever closer to home, the lives of Jai and his friends will never be the same again. At times exuberant, at times heartbreaking, Djinn Patrol on the Purple Line traces the unfolding of a tragedy while capturing the fierce warmth and resilience of a community forged in times of trouble.
BEFORE SHE WAS HELEN – Caroline B. Cooney
Clementine Lakefield leads a simple life in her retirement community in Sun City, South Carolina. But while she plays cards, substitute teaches, and has learned to text with her niece and nephew, Clemmie is not who she says she is. Behind her carefree facade, she is hiding a lifetime of secrets. When Clemmie's curmudgeonly neighbor goes missing, Clemmie suddenly finds herself at the center of a dangerous conspiracy…
THE THURSDAY MURDER CLUB – Richard Osman
In a peaceful retirement village, four unlikely friends meet weekly in the Jigsaw Room to discuss unsolved crimes; together they call themselves The Thursday Murder Club. There's Red Ron, the infamous former socialist firebrand, still causing trouble; gentle Joyce, widowed, pining for another resident, but surely not as innocent as she seems; Ibrahim, a former therapist who understands the darker side of human nature; and Elizabeth? Well, no one is quite sure who she really is, but she's definitely not a woman to underestimate. When a local developer is found dead, the Thursday Murder Club suddenly find themselves in the middle of their first live case. The friends might be septuagenarians, but they are cleverer than most. Can our unorthodox but brilliant gang catch the killer before it's too late?
In West Adams, a rapidly changing part of South Los Angeles, they're referred to as these women. These women on the corner... These women in the club... These women who won't stop asking questions... These women who got what they deserved... Ivy Pochoda creates a kaleidoscope of loss, power, and hope featuring five very different women whose lives are steeped in danger and anguish. They're connected by one man and his deadly obsession, though not all of them know that yet. There's Dorian, still adrift after her daughter's murder remains unsolved; Julianna, a young dancer nicknamed Jujubee, who lives hard and fast, resisting anyone trying to slow her down; Essie, a brilliant vice cop who sees a crime pattern emerging where no one else does; Marella, a daring performance artist whose work has long pushed boundaries but now puts her in peril; and Anneke, a quiet woman who has turned a willfully blind eye to those around her for far too long. The careful existence they have built for themselves starts to crumble when two murders rock their neighborhood.
THE MISSING AMERICAN – Kwei Quartey
When her dreams of rising through the police ranks like her late father crash around her, 26-year-old Emma Djan is unsure what will become of her life in Accra. Through a sympathetic former colleague, Emma gets an interview with a private detective agency tracking down missing persons, thefts, and marital infidelities. It's not the future she imagined, but it's her best option. Meanwhile, Gordon Tilson, a middle-aged widower in Washington, DC, has found solace in an online community after his wife's passing. Through the support group, he's even met a young Ghanaian widow he really cares about, and when her sister gets into a car accident, he sends her thousands of dollars to cover the hospital bill--to the horror of his only son, Derek. When Gordon runs off to Ghana to surprise his new love and disappears, Derek chases after him, fearing for his father's life. The case of the missing American man will drag both Emma and Derek into a world of Sakawa scams, fetish priests, and those willing to keep things secret through death.
THE DISTANT DEAD – Heather Young (soon to be in GPL collection)
Lovelock, Nevada. A boy walks into the fire station, pale with the shock of a grisly discovery. By day's end, the body burning in the desert hills is identified as local math teacher Adam Merkel. A seemingly unremarkable man, he left a university professorship in Reno to teach middle school, but connected with just one of his students: Sal Prentiss, a lonely sixth grader who lives with his uncles on a desolate ranch in the hills. Sal found Adam's body, charred almost beyond recognition, half a mile from his uncles' compound. Nora Wheaton, the middle school's social studies teacher, delves into Adam's past and finds a dark history she understands all too well.
* * *
For more information on the Edgars, including categories and nominations in this and past years, please consult their website: http://www.theedgars.com/
All of the book descriptions taken from their descriptions on CountyCat.