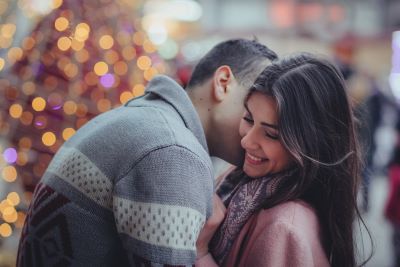 It's that time of year! A time to return to your small town at Christmastime, magically fall in love, mishear something and fall out of love, then fall back INTO love, and talk to an old man with a beard who may or may not be Santa Claus. Does this sound like YOUR holiday plans? Well it would all make sense if you were in Hallmark Countdown to Christmas World!
Every year since 2009, the Hallmark Channel has brought "Countdown to Christmas" to the airwaves: a November and December smorgasbord of corny winter- and Christmas-themed movies full of holiday cheer. While the movies remain somewhat formulaic, these made-for-TV movies have a hardcore cult following that tune in year after year for goofy and heartfelt holiday films.
If you don't have cable and want to get into the Hallmark movie holiday spirit, Greenfield Library is here for you! We have a number of these holiday films for your cocoa-sipping enjoyment. After watching a couple of these, you too will wish you were under the misplaced mistletoe awkwardly kissing an old flame or a plaid-wearing sensitive widower with his dog: just like in the movies!
Here is a smattering of some of the Hallmark holiday and winter movies in our collection:
With Christmas approaching in New York City, Jessica, an archival historian enmeshed in a declining romantic relationship, is hired to create an exhibition honoring the history of Christmas at The Plaza Hotel. There, she meets Nick, a handsome decorator who's been commissioned to deck out the iconic landmark. When they're paired together to prepare the exhibition, they wind up enjoying a host of holiday traditions together and find themselves falling for each other.
After a snafu at the airport, Ashley is forced to rent a car in order to make it home to Seattle by Christmas. She ends up sharing the last car on the lot with Dash, a handsome stranger, who also needs to get to Seattle. Little does Ashley know that the snafu is because she is on the FBI's no fly list, and Dash is an undercover agent assigned to trail her.
IT'S BEGINNING TO LOOK A LOT LIKE CHRISTMAS
As mayors of neighboring New Hampshire towns, longtime rivals Liam and Sarah are determined to best each other on their way to leading their hamlets to victory in the annual statewide 'Christmas Spirit Competition.' When both towns unexpectedly advance to the contest's final round, the mayors decide their best hope lies in working with, rather than against, each other. As they collaborate on a celebration showing what Christmas means to their communities, they discover their holiday miracle.
While settling his father's estate, Finn Conrad becomes suspicious as to why the man left a nurse 50 thousand dollars. His dad knew her for less than two months before he dies. Just before Christmas, Finn wants to reclaim what he considers his family's money, going undercover to investigate the bed and breakfast nurse has recently taken over. When Fin meets Willa, he discovers she's not a conniving gold digger at all, but a woman in need who put the money to good use.
Christmas enthusiast party planners Ella and her sister, Marianne, who clash with their client, Edward, who is a not-so-jolly toy company CEO. Frivolous Ella wants to prove herself to her serious sister Marianne by taking on and planning his very important party.
A doctor returns home for Christmas to find that her father has decided to retire from his own practice. After reuniting with her high school sweetheart, she wonders if she should stay and take over her father's practice.
Single mom Maggie is trying to maintain the balance of being devoted to son Jordan while having a career. Jordan needs help at school and meets Casey, a tutor. They quickly bond, and Casey becomes more like a father figure. What he wishes most, however, is for his mom to find happiness and love again at Christmas. With the help of faith and fate, Maggie discovers anything is possible.
Career-minded Rebecca's plans for Hanukkah don't go as expected when a promotion opportunity comes up at work. When the company CEO asks Rebecca and her insufferable office mate, Chris, also her main competitor for the promotion, to plan the company's Christmas party, she realizes they must overcome their opposing styles to succeed. Forced to work together on the party, Chris learns more about Rebecca and embraces her family's Hanukkah traditions, while she also begins to see him in a new light.
The story of a youth choir director who needs to write a big song for a Christmas Eve show. She is distracted from her task when a boy with a golden voice joins her choir, which comes as a surprise to his widowed father.
A photographer returns home for the holiday to look after her grandmother and ends up lending a helping hand to a neighbor who needs assistance watching his nephew.
CHRISTMAS IN EVERGREEN: TIDINGS OF JOY
As the town searches for a rumored Christmas Time Capsule, a skeptical writer arrives in Evergreen to get the story on the town's "too-good-to-be-true" Christmas-fever.
Well-loved music duo Averie and Jesse, famous for their duet "Wouldn't Be Christmas," haven't played together since they went their separate ways years ago. Averie gave up music and opened a beautiful lodge in a snowy Vermont town, while Jesse still tours, struggling to find the same kind of success they had as a duo. When fate brings them together over the holidays at Averie's lodge just in time for the annual Yuletide Festival, can the magic of Christmas help reunite them once again?
A former ski champion reenters the competitive world when a sixteen-year old downhill racer asks for help, leading her to reawaken an old passion and find a new love.
NYC-based copy editor, Alex, is sent to Ridgeline Resort, an extreme sports outpost, to write a story for a travel writing competition. At first, she fails at everything - much to the chagrin of Cole, an extreme sports enthusiast who thinks this city girl should head back to New York. But when Alex offers to assist Cole with his local arts festival, he reluctantly obliges to be her guide as she faces her fears doing one extreme sport after the next.