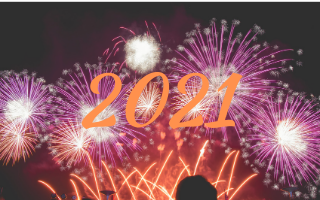 In a normal year, now is about the time when people starting thinking about New Year's resolutions. January and the new year is a great time to reflect on what one is going to do to continue their current good habits, rid of the bad ones, or just improve their life somehow in the next year while it is cold out and you are stuck indoors.
Let's admit it: 2020 was a doozy. Almost ANYTHING could be an improvement upon the past year. We have been stuck indoors for 9 months! We have had nothing BUT time to think about our habits and the future!
Even though 2020 has got us all down, it doesn't have to mean that we have to be out. It is paramount, more than ever, to lift our spirits in these approaching cold and wintry months. Why not learn something new? Take up a new hobby? Lose a little weight? Get your financial life or career back on track? Improve yourself and your surroundings? These concepts are not simple on paper. ONLY IF THERE WAS SOME SORT OF BOOK THAT COULD ASSIST A BEGINNER WITH BASIC CONCEPTS AND HELP YOU HAVE A DYNAMIC 2021!
Well partner, Greenfield Library is here for you. Our monthly book display for January is titled "2021…For Dummies." The display will be loaded with "For Dummies" books on a variety of topics to help you take the steps towards getting the most out of 2021 based on skills you may already have. "For Dummies" books have been around since 1991 and have helped millions of people improve their lives. These yellow-covered guides attempt to make complex topics more approachable for novices and encourage their readers to confidently approach difficult concepts through easy-to-understand writing, step-by-step. You are not a dummy if you read these books: you just want to improve your life!
So come on into GPL and tell 2020 that you are done with it and that you will not be held back any longer in 2021. Take that murder hornets!
Below are just a few of the "For Dummies" books to be displayed this January. All explanations are written by the publisher.
From budgeting, saving, and reducing debt to making timely investment choices and planning for the future, this trusted book provides you with the tools you need to take charge of your financial life. This book is packed with Eric Tyson's bestselling, time-tested financial tips and advice. It provides you with everything you need to get your personal finances in order in this ever-changing economic climate.
STARTING AN ONLINE BUSINESS ALL-IN-ONE FOR DUMMIES
Make your online business dream a reality! The updated edition covers all the basics--creating your site, offering products in an online store, and keeping accurate books. It also addresses more complex issues, including navigating primary legal, accounting, and security challenges. Use this resource to find your market niche, build your business and marketing plan, and decide on the right revenue model. It's time to make your big dream happen with the help of this book. Begin setting up shop today!
Breathe deep, declutter your mind, and start leading a healthier, happier life...The worry won't stop. You're feeling stressed out, the day-to-day seems overwhelming, and it seems difficult to do the simplest things. How can you escape this continual negative feedback loop? Mindfulness is the answer. Practiced by millions of people worldwide, mindfulness puts you back in a healthy relationship with yourself by teaching techniques that allow you to maintain a moment-by-moment awareness of your thoughts, feelings, and environment. Clear your mind of distracting thoughts. Focus on breathing and other self-control techniques. Change the wiring and makeup of your brain. Free yourself from the stress. With this expert, easy-to-follow guide, there's never been a better time to get to grips with mindfulness and the many ways it can help you lead a happier, healthier life.
QUITTING SMOKING & VAPING FOR DUMMIES
Most people know that smoking is bad for their health and believe vaping is a better alternative. Now, vaping has become a national epidemic and shows no sign of slowing. "Quitting Smoking & Vaping For Dummies" delivers facts about the differences between smoking and vaping, the effects on their short-term and long-term health, and how addiction works. Whether you're a smoker or a vaper, or have a loved one that needs to break the habit, this trusted guidebook walks you through building a personal quitting plan. Offering information on new and effective medication treatments, Cognitive Behavior Therapy (CBT), and building resilience, it sets you or a family member on the path to recovery. This book breaks down the psychology of your addiction so you can identify the methods that are most useful and effective for becoming smoke free for good. Start your recovery today, and look forward to a long and healthy life.
Your go-to guide for success in the kitchen. Ready to do more than boil water? "Cooking Basics For Dummies" will help you expand your skills and develop your confidence in the kitchen. With simple instructions and a fun-and-friendly tone, this cookbook shows you how to prepare everything--from traditional dishes to the latest popular foods, and from brilliant breakfasts to delectable desserts. Whether you're looking to make dinner in a pinch or crafting a dish for a special occasion, you'll find everything you need to start creating delicious, healthy meals
"Zoom For Dummies" shows you how to discover how to set up meetings, share screens, files, and code snippets, keep your meetings secure, add Zoom hardware to your office, get tips for using Zoom as a social tool, and much, much more.
Learning to play this versatile instrument is made easier for the experience and inexperienced alike with this new edition of "Ukulele For Dummies." Following its straightforward instructions, you'll pick your way from the basics of purchasing your ukulele and accessories to confidently strumming through simple chord progressions and jamming through various styles and standards, including pop, folk, and those much-loved holiday favorites.
Even if you've never cooked a slab of bacon in your life, you can prepare sausage and cured meats at home! In "Charcuterie for Dummies," you'll learn everything you could possibly need to get started, from choosing the right gear and finding quality raw ingredients, all the way through taking your parties to the next level with epic charcuterie boards. Salami, bacon, prosciutto, and good-old-fashioned sausage are all on the menu with Charcuterie for Dummies. Author and meat master Mark LaFay will help you keep things safe and sanitary, equip you with some seriously awesome recipes, and teach you a thing or two about which beers and wines to serve up with your meat. Choose a chapter and get started!