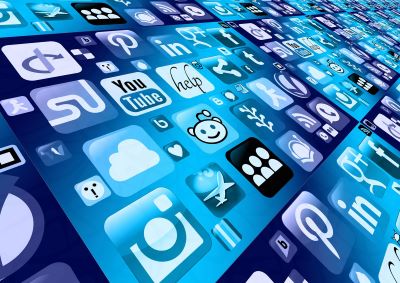 If you are on Instagram, TikTok, or YouTube, you might have seen content creators, including libraries, post videos and photos about their favorite books, recent reads, upcoming releases, and their TBR list (which is short for to-be-read). These book recommendations are connecting and engaging a community of readers across social media platforms. What I particularly enjoy about these book recommendations is that they tend to focus less on genre conventions, and more on how books affect the reader. If you are looking for a book that will make you laugh out loud, ugly-cry, or any emotion in between, #booktok's got you covered. I highly recommend taking a look at #booktok, #booktube, or #bookstagram. Chances are that you will be able to find a whole slew of books to add to your TBR list.
To start, here is a list of current books that are popular on #booktok for young adults and adults. Also, make sure to take a look at our young adult #booktok book display in the teen area during the month of July.
Young Adults
Heartstopper, Volume 1 by Alice Osman
Boy meets boy. Boys become friends. Boys fall in love. Shy and softhearted Charlie Spring sits next to rugby player Nick Nelson in class one morning. A warm and intimate friendship follows, and that soon develops into something more for Charlie, who doesn't think he has a chance. But Nick is struggling with feelings of his own, and as the two grow closer and take on the ups and downs of high school, they come to understand the surprising and delightful ways in which love works.-- Provided by publisher.
Throne of Glass (Throne of Glass Series #1) by Sarah J. Maas
After she has served a year of hard labor in the salt mines of Endovier for her crimes, Crown Prince Dorian offers eighteen-year-old assassin Celaena Sardothien her freedom on the condition that she act as his champion in a competition to find a new royal assassin.
A Good Girl's Guide to Murder by Holly Jackson
As her senior capstone project, Pippa Fitz-Amobi is determined to find the real killer in a closed, local murder case, but not everyone wants her meddling in the past.
Popular Fairview high school senior Andie Bell was murdered by her boyfriend, Sal Singh, who then killed himself. Five years later, Pip sees how the tragedy still haunts her town. She knew Sal when she was a child, and he was always so kind to her. How could he possibly have been a killer? Now a senior herself, Pip decides to reexamine the closed case for her final project. She discovers a trail of dark secrets that might actually prove Sal innocent. But someone in Fairview doesn't want Pip digging around for answers, and her own life might be in danger. -- adapted from jacket
The Inheritance Games by Jennifer Lynn Barnes\
When a Connecticut teenager inherits vast wealth and an eccentric estate from the richest man in Texas, she must also live with his surviving family and solve a series of puzzles to discover how she earned her inheritance.
Every Last Word by Tamara Ireland Stone
Consumed by a stream of dark thoughts and worries that she can't turn off, a girl coping with Purely-Obsessional OCD learns to accept herself and take control of her life through her experiences in poetry club.-- Provided by publisher
The Cruel Prince (Folk of the Air Series #1) by Holly Black
Jude was seven years old when her parents were murdered and she and her two sisters were stolen away to live in the treacherous High Court of Faerie. Ten years later, Jude wants to belong there, despite her mortality. But many of the fey despise humans. Especially Prince Cardan, the youngest and wickedest son of the High King. To win a place at the Court, she must defy him--and face the consequences. In doing so, she becomes embroiled in palace intrigues and deceptions, discovering her own capacity for bloodshed. As civil war threatens, Jude will need to risk her life in a dangerous alliance to save her sisters, and Faerie itself.-- Amazon.com.
They Both Die in the End by Adam Silvera
In a near-future New York City where a service alerts people on the day they will die, teenagers Mateo Torrez and Rufus Emeterio meet using the Last Friend app and are faced with the challenge of living a lifetime on their End Day.
These Violent Delights by Chloe Gong
In 1926 Shanghai, eighteen-year-old Juliette Cai, heir of the Scarlet Gang, and her first love-turned-rival Roma Montagov, leader of the White Flowers, must work together when mysterious deaths threaten their city.-- Provided by Publisher.
You've Reached Sam by Dustin Thao\
Seventeen-year-old Julie fell in love with Sam the day she met him, and planned to attend college with him; but Sam died, and getting rid of his things, trying to erase him from her life is not working, so desperate to hear his voice one more time, Julie calls his cellphone expecting to hear his voicemail--but then Sam answers, and suddenly their cellphones become the living connection between them, a connection Julie finds impossible to let go.
Tierney James, sixteen, struggles to endure the year in which she and other young women are banished to the wild until, purified, the survivors are allowed to return home and marry.
Scythe (Arc of a Scythe Series #1) by Neal Shusterman
In a world where disease has been eliminated, the only way to die is to be randomly killed ('gleaned') by professional reapers ('scythes'). Two teens must compete with each other to become a scythe--a position neither of them wants. The one who becomes a scythe must kill the one who doesn't.-- Provided by publisher.
I Kissed Shara Wheeler by Casey McQuiston
After seventeen-year-olds Chloe and Shara, Chloe's rival for valedictorian, kiss, Shara vanishes leaving Chloe and two boys, who are also enamored with Shara, to follow the trail of clues she left behind, but during the search, Chloe starts to suspect there might be more to Shara and her small Alabama town than she thought.
Adults
It Ends with Us by Colleen Hoover
The newest, highly anticipated novel from beloved #1 New York Times bestselling author, Colleen Hoover. Sometimes it is the one who loves you who hurts you the most. Lily hasn't always had it easy, but that's never stopped her from working hard for the life she wants. She's come a long way from the small town in Maine where she grew up--she graduated from college, moved to Boston, and started her own business. So when she feels a spark with a gorgeous neurosurgeon named Ryle Kincaid, everything in Lily's life suddenly seems almost too good to be true. Ryle is assertive, stubborn, maybe even a little arrogant. He's also sensitive, brilliant, and has a total soft spot for Lily. And the way he looks in scrubs certainly doesn't hurt. Lily can't get him out of her head. But Ryle's complete aversion to relationships is disturbing. Even as Lily finds herself becoming the exception to his "no dating" rule, she can't help but wonder what made him that way in the first place. As questions about her new relationship overwhelm her, so do thoughts of Atlas Corrigan--her first love and a link to the past she left behind. He was her kindred spirit, her protector. When Atlas suddenly reappears, everything Lily has built with Ryle is threatened. With this bold and deeply personal novel, Colleen Hoover delivers a heart-wrenching story that breaks exciting new ground for her as a writer. Combining a captivating romance with a cast of all-too-human characters, It Ends With Us is an unforgettable tale of love that comes at the ultimate price.-- Provided by publisher.
Lowen Ashleigh is a struggling writer on the brink of financial ruin when she accepts the job offer of a lifetime. Jeremy Crawford, husband of bestselling author Verity Crawford, has hired Lowen to complete the remaining books in a successful series his injured wife is unable to finish. Lowen arrives at the Crawford home, to sort through years of Verity's notes and outlines, hoping to find enough material to get started. Lowen uncovers an unfinished autobiography Verity never intended anyone to read, with pages of bone-chilling admissions, including Verity's recollection of the night their family was forever altered. Lowen decides to keep the manuscript hidden from Jeremy, knowing its contents would devastate him. But as Lowen's feelings for Jeremy begin to intensify, she recognizes all the ways she could benefit, if he were to read his wife's words. After all, no matter how devoted Jeremy is to his injured wife, a truth this horrifying would make it impossible for him to continue to love her.
The Seven Husbands of Evelyn Hugo by Taylor Jenkins Reed
Aging and reclusive Hollywood movie icon Evelyn Hugo is finally ready to tell the truth about her glamorous and scandalous life. But when she chooses unknown magazine reporter Monique Grant for the job, no one in the journalism community is more astounded than Monique herself... Regardless of why Evelyn has chosen her to write her biography, Monique is determined to use this opportunity to jumpstart her career. Summoned to Evelyn's Upper East Side apartment, Monique listens as Evelyn unfurls her story: from making her way to Los Angeles in the 1950s to her decision to leave show business in the late 80s, and, of course, the seven husbands along the way. As Evelyn's life unfolds, revealing a ruthless ambition, an unexpected friendship, and a great forbidden love, Monique begins to feel a very a real connection to the actress. But as Evelyn's story catches up with the present, it becomes clear that her life intersects with Monique's own in tragic and irreversible ways. -- Dust jacket
The Song of Achilles by Madeline Miller
Patroclus, an awkward young prince, follows Achilles into war, little knowing that the years that follow will test everything they have learned, everything they hold dear. And that, before he is ready, he will be forced to surrender his friend to the hands of Fate. Set during the Trojan War.
All the Light We Cannot See by Anthony Doerr
From the highly acclaimed, multiple award-winning Anthony Doerr, a stunningly ambitious and beautiful novel about a blind French girl and a German boy whose paths collide in occupied France as both try to survive the devastation of World War II. Marie-Laure lives with her father in Paris within walking distance of the Museum of Natural History where he works as the master of the locks (there are thousands of locks in the museum). When she is six, she goes blind, and her father builds her a model of their neighborhood, every house, every manhole, so she can memorize it with her fingers and navigate the real streets with her feet and cane. When the Germans occupy Paris, father and daughter flee to Saint-Malo on the Brittany coast, where Marie-Laure's agoraphobic great uncle lives in a tall, narrow house by the sea wall. In another world in Germany, an orphan boy, Werner, grows up with his younger sister, Jutta, both enchanted by a crude radio Werner finds. He becomes a master at building and fixing radios, a talent that wins him a place at an elite and brutal military academy and, ultimately, makes him a highly specialized tracker of the Resistance. Werner travels through the heart of Hitler Youth to the far-flung outskirts of Russia, and finally into Saint-Malo, where his path converges with Marie-Laure. Doerr's gorgeous combination of soaring imagination with observation is electric. Deftly interweaving the lives of Marie-Laure and Werner, Doerr illuminates the ways, against all odds, people try to be good to one another. Ten years in the writing, All the Light We Cannot See is his most ambitious and dazzling work.-- Provided by publisher.
The Silent Patient by Alex Michaelides
Alicia Berenson's life is seemingly perfect. A famous painter married to an in-demand fashion photographer, she lives in a grand house with big windows overlooking a park in one of London's most desirable areas. One evening her husband Gabriel returns home late from a fashion shoot, and Alicia shoots him five times in the face, and then never speaks another word. Alicia's refusal to talk, or give any kind of explanation, turns a domestic tragedy into something far grander, a mystery that captures the public imagination and casts Alicia into notoriety. The price of her art skyrockets, and she, the silent patient, is hidden away from the tabloids and spotlight at the Grove, a secure forensic unit in North London. Theo Faber is a criminal psychotherapist who has waited a long time for the opportunity to work with Alicia. His determination to get her to talk and unravel the mystery of why she shot her husband takes him down a twisting path into his own motivations - a search for the truth that threatens to consume him....
The House in the Cerulean Sea by TJ Klune
A magical island. A dangerous task. A burning secret. Linus Baker leads a quiet, solitary life. At forty, he lives in a tiny house with a devious cat and his old records. As a Case Worker at the Department in Charge Of Magical Youth, he spends his days overseeing the well-being of children in government-sanctioned orphanages. When Linus is unexpectedly summoned by Extremely Upper Management he's given a curious and highly classified assignment: travel to Marsyas Island Orphanage, where six dangerous children reside: a gnome, a sprite, a wyvern, an unidentifiable green blob, a were-Pomeranian, and the Antichrist. Linus must set aside his fears and determine whether or not they're likely to bring about the end of days. But the children aren't the only secret the island keeps. Their caretaker is the charming and enigmatic Arthur Parnassus, who will do anything to keep his wards safe. As Arthur and Linus grow closer, long-held secrets are exposed, and Linus must make a choice: destroy a home or watch the world burn. An enchanting story, masterfully told, The House in the Cerulean Sea is about the profound experience of discovering an unlikely family in an unexpected place-and realizing that family is yours.-- Provided by publisher
The Invisible Life of Addie LaRue by V.E. Schwab (July Adult Book Discussion)
Making a Faustian bargain to live forever but never be remembered, a woman from early eighteenth-century France endures unacknowledged centuries before meeting a man who remembers her name.
France, 1714. In a moment of desperation, a young woman makes a Faustian bargain to live forever-- and cursed to be forgotten by everyone she meets. Addie LaRue's life will play out across centuries and continents, across history and art. After nearly 300 years, Addie stumbles across a young man in a hidden bookstore. He remembers her name-- and everything changes. How far will she go to leave her mark on the world?
A by-the-book literary agent must decide if happily ever after is worth changing her whole life for in this insightful, delightful new novel from the #1 New York Times bestselling author of Beach Read and People We Meet on Vacation. Nora Stephens life is books-she's read them all-and she is not that type of heroine. Not the plucky one, not the laidback dream girl, and especially not the sweetheart. In fact, the only people Nora is a heroine for are her clients, for whom she lands enormous deals as a cutthroat literary agent, and her beloved little sister Libby. Which is why she agrees to go to Sunshine Falls, North Carolina for the month of August when Libby begs her for a sisters' trip away-with visions of a small town transformation for Nora who she's convinced needs to become the heroine in her own story. But instead of picnics in meadows, or run-ins with a handsome country doctor or bulging-forearmed bartender, Nora keeps bumping into Charlie Lastra, a bookish brooding editor from back in the city. It would be a meet-cute if not for the fact that they've met many times and it's never been cute. If Nora knows she's not an ideal heroine, Charlie knows he's nobody's hero, but as they are thrown together again and again-in a series of coincidences no editor worth their salt would allow-what they discover might just unravel the carefully crafted stories they've written about themselves.-- Provided by publisher
Red, White, and Royal Blue by Casey McQuinston
First Son Alex Claremont-Diaz, with his sister and the Veep's genius granddaughter, are the White House Trio, a beautiful millennial marketing strategy for his mother, President Ellen Claremont. Then photos of a confrontation with his longtime nemesis Prince Henry at a royal wedding leak to the tabloids. The plan for damage control: stage a fake friendship between the First Son and the Prince. Alex soon discovers that beneath Henry's Prince Charming veneer, there's a soft-hearted eccentric with a dry sense of humor and more than one ghost haunting him. As President Claremont kicks off her reelection bid, Alex finds himself hurtling into a relationship with Henry that could derail the campaign and upend two nations. -- adapted from back cover.
Mexican Gothic by Silvia Moreno-Garcia
After receiving a frantic letter from her newly-wed cousin begging for someone to save her from a mysterious doom, Noemi Taboada heads to High Place, a distant house in the Mexican countryside. She's not sure what she will find--her cousin's husband, a handsome Englishman, is a stranger, and Noemi knows little about the region. Noemi is also an unlikely rescuer: She's a glamorous debutante, and her chic gowns and perfect red lipstick are more suited for cocktail parties than amateur sleuthing. But she's also tough and smart, with an indomitable will, and she is not afraid: Not of her cousin's new husband, who is both menacing and alluring; not of his father, the ancient patriarch who seems to be fascinated by Noemi; and not even of the house itself, which begins to invade Noemi's dreams with visions of blood and doom. Her only ally in this inhospitable abode is the family's youngest son. Shy and gentle, he seems to want to help Noemi, but might also be hiding dark knowledge of his family's past. For there are many secrets behind the walls of High Place. The family's once colossal wealth and faded mining empire kept them from prying eyes, but as Noemi digs deeper she unearths stories of violence and madness.
Written in the Stars by Alexandria Bellefleur
With nods to Bridget Jones and Pride & Prejudice, this debut is a delightful #ownvoices queer rom-com about a free-spirited social media astrologer who agrees to fake a relationship with an uptight actuary until New Year's Eve with results not even the stars could predict!
After a disastrous blind date, Darcy Lowell is desperate to stop her well-meaning brother from playing matchmaker ever again. Love and the inevitable heartbreak is the last thing she wants. So she fibs and says her latest set up was a success. Darcy doesn't expect her lie to bite her in the ass.
Elle Jones, one of the astrologers behind the popular Twitter account Oh My Stars, dreams of finding her soul mate. But she knows it is most assuredly not Darcy... a no-nonsense stick-in-the-mud, who is way too analytical, punctual, and skeptical for someone as free-spirited as Elle. When Darcy's brother and Elle's new business partner expresses how happy he is that they hit it off, Elle is baffled. Was Darcy on the same date? Because... awkward.
Darcy begs Elle to play along and she agrees to pretend they're dating. But with a few conditions: Darcy must help Elle navigate her own overbearing family during the holidays and their arrangement expires on New Year's Eve. The last thing they expect is to develop real feelings during a faux relationship. But maybe opposites can attract when true love is written in the stars?