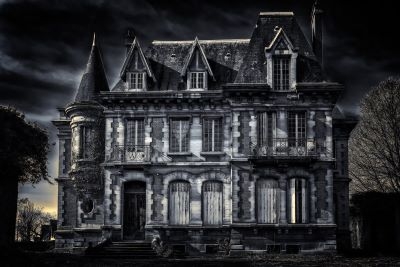 Silvia Moreno-Garcia mixes horror, suspense and the perils of colonialism in this year's timely Mexican Gothic. Plucky heroine Noemí visits the genre's requisite bleak abode to aid her cousin suffering from a strange illness. Noemí endures odd dreams and insults from her hosts before things turn really creepy. If you're lucky, you might find a copy on our popular titles display.
Moreno-Garcia's Mexican Gothic reminds us a bit of The Ruins. Though the Scott Smith novel doesn't feature a crumbling mansion like the other books listed here, it takes place just off the tourist trail in Mexico's Yucatán Peninsula. A group of friends investigates the disappearance of one of their own, only to slowly succumb to the danger themselves.
One of our very favorite gothic novels is The Little Stranger by Sarah Waters. Set in 1940s England, it follows a doctor who answers a call from a family living in a once-magnificent house. As more and more mysterious events occur, the reader begins to question everything, including the doctor-narrator, in this atmospheric ghost story.
In We Have Always Lived in the Castle, Shirley Jackson also employs a potentially unreliable narrator in the form of quirky Mary Katherine. "Merricat" suffers ridicule every time she goes into town to buy groceries. She lives with her sister and uncle in their family home, where generations of Blackwoods have lived and inspired envy from the villagers. When cousin Charles shows up, will he be poisoned like other Blackwoods before him?
After reading The Shadow of the Wind, you'll want to make a trip to Barcelona. The city provides the haunting setting for the first book published in the four-part Cemetery of Forgotten Books series by Carlos Ruiz Zafón. Young Daniel chooses a novel from a hidden library, and for years tries to solve the mysteries of who the author was and why his books are disappearing.
For more spine-tingling stories, check out our display on the library's second floor.