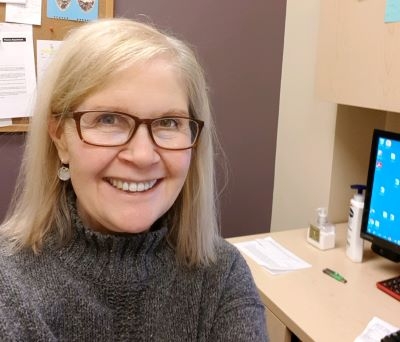 Michelle Scaife has been the Business Manager at Greenfield Library for the past 15 years. If you come to Greenfield Library often, you have definitely seen or perhaps talked to her. She has many duties: many official, but most of them unofficial. Just to name a few, these duties include the scheduling of the meeting rooms, supervising volunteers, paying the Library's bills, counting money for the registers, creating slides for the Library's display monitors, filling in at the circulation desk when others are on break or vacation, monitoring the bulletin board in the entryway, setting up and taking down tables and chairs for events, editing the website (especially the events), creating the electronic version of our event's brochures, communicating with the Department of Public Works about our building maintenance needs, managing the copier/printer coin machines, changing the batteries in the door keypads, planning staff parties, watering plants and about a million other random tasks. It will be impossible to comprehend and appreciate all the little things Michelle has done for the last 15 years at Greenfield Public Library that has made work easier for all employees and library patrons.
Hard work aside, Michelle is an amazing, kind, warm presence that we are going to greatly miss around the office. All of us are going to miss her: staff, librarians, city workers, business partners, the people who rent the rooms, library patrons. She always has a kind word. She always makes time for you. She listens. She gladly does what you ask, even if is a demanding task. She goes out of her way to help you. She always has an interesting opinion. Simply put, Michelle is awesome.
She has touched so many people at Greenfield Library:
"Michelle is an incredibly warm person and someone that takes the time to make everyone feel welcome. She never fails to ask how everyone is doing, and genuinely cares about her coworkers. Michelle is compassionate and understanding, and always there if you need someone to talk to. She is also really helpful. There have been several times where the circulation desk has gotten busy, and I've had a line of people waiting, and she will jump in to help without me having to ask. She is a team player and wants to help everyone in any way she can. I will really miss working with her, but am also very happy for her. Congratulations Michelle, wishing you a long and happy retirement!"
***
"Michelle is a coworker that you know you can always depend on. She is incredibly selfless and does everything she can to help out the people around her. The library would not be the well-oiled machine that it is without all of Michelle's hard work over the years, and I am incredibly grateful to have worked with her at my time here at GPL."
***
"I started working here almost 8 years ago and I was riding the bus during my first Midwest winter. Many co-workers gave me rides home during those days, and Michelle was the first who offered. She was kind and gracious, and I really appreciated our chit-chats on the rides as I was getting used to Milwaukee and getting to know people. I also remember how warmly Michelle asked me about my engagement and wedding, her friendliness in dealing with everyone, even in stressful situations, and her willingness to step in when needed. I want to thank Michelle for her presence and hard work at GPL and wish her an amazing and well-deserved retirement!"
***
"Sometimes, Michelle is my backup at the circulation desk during the week and every time, she says, "Nadia, I got the desk. Go work on your stuff." She has made a habit of manning the desk so that I can get my other side tasks done which is extremely kind of her. I'm always excited to share good news about school with Michelle because she always happens to be more excited to hear it than I am to tell it. Most of all, I will miss having her welcoming and cheerful spirit around.
To one of the best people who has worked at our library, I wish you endless days of relaxation and time to do the things you love. Happy happy retirement, Michelle!"
***
"Michelle is kind, helpful and has a very calming presence. She always makes everyone feel at ease and gives the best advice for any situation. It was fun working with her on our new website and working out all the tech issues that came up. When we would work together, somehow any stress I would have would just melt away it would be fun figuring out challenges with her. I'm so glad I got to work with Michelle and wish her the best in her retirement!"
***
"Michelle can always make me laugh. She somehow senses when I'm stressed out from work or life and listens while I talk about it, and then has me laughing by the end of our conversation. She also has a way of making me see the positive side of every situation. Michelle is genuinely interested in other people and is a kind soul. She is a dear coworker and friend."
***
Michelle will enjoy her retirement with her husband, Dave and her sons Grant and Andrew.
I think I speak for everyone at the Greenfield Public Library community when I say, thank you. Thank you for your service and thank you for being you and making us all better people and employees by following your example. I think all of our hearts sunk a little when we heard you were leaving, but we know that if anyone deserves a lengthy and happy retirement that it is you. Thank you again. Please visit often.