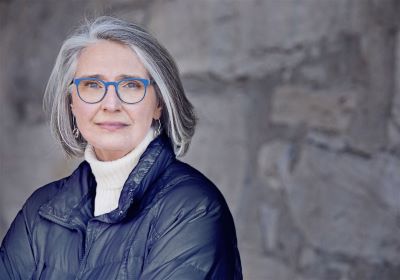 For those who don't already know her Inspector Gamache mysteries, here's why you should.
All the Devils Are Here, Louise Penny's latest book featuring Inspector Armand Gamache, arrives at the library this September. While Penny sets most of her novels in the fictional Canadian village of Three Pines, this story takes place in Paris. The mystery centers on Gamache's billionaire godfather, who fights to stay alive after a deliberate hit-and-run, and what he was up to days before his injury. As Gamache begins to investigate, he uncovers a murder amid corporate secrets and possible police corruption. While longtime readers may miss the series regulars in the village, they'll be treated to more of Gamache's family, including his son, Daniel, a minor character up to this point. The French locations offer a welcome change of scenery, too, making All the Devils Are Here our favorite Gamache mystery since 2015's The Nature of the Beast. Look for Devils on our popular titles display, and find Penny's other books in our fiction section.
These six reasons sum up our love for Penny and her series:
She's not afraid to change things up. As with her latest, she has occasionally taken the action out of Three Pines, following Gamache to Quebec City and British Columbia. Gamache's role within the Sûreté du Québec has changed as have the positions of his colleagues. These changes keep the series from getting stale.
She dreamed up Three Pines. We enjoy the excursions out of the village, but love its idyllic spot near the U.S. border and off most maps. We wish we could visit Olivier's bistro, Gabri's bed-and-breakfast, Myrna's bookstore and Sarah's boulangerie.
Her detective is refreshingly empathetic. Many fictional detectives are hardened by the crimes they encounter, but Gamache listens with genuine concern for witnesses and an open mind to suspects. He also has an enviable relationship with his beloved wife, Reine-Marie.
Her characters get second chances. Gamache mentors several young officers and even recruits supposed misfits for the prestigious homicide department. Other characters, too, go on transformative journeys. Characters wonder whether people can change, and Penny shows us time and again that we can become better versions of ourselves.
She writes about food so well she makes us hungry. Penny's characters dine well, and she provides details of gourmet meals the detectives savor at the bistro or at one of the many potlucks the villagers host.
Her mysteries are really about people. Like Tana French and Kate Atkinson, Penny writes character-driven mysteries. You'll root for Clara, the misunderstood artist, and laugh at the antics of Ruth, the surly poet. And your heart may break a little here and there for characters who have become your friends.
Photo: Louise Penny, credit Jean-François Bérubé