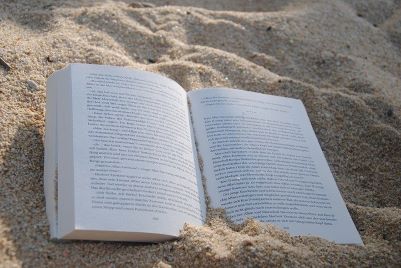 Here are some books our librarians are most excited about this summer. Add these to your to-read list and don't forget to join our online Summer Reading Challenge for all ages.
Christine, Youth Services Librarian:
Time for School, Little Blue Truck by Alice Schertle
Little Blue Truck and his good friend Toad are excited to meet a bright yellow school bus on the road. They see all the little animals lined up in the school bus's many windows, and Blue wishes he could be a school bus too. What a fun job—but much too big for a little pickup like Blue. Or is it? When somebody misses the bus, it's up to Blue to get his friend to school on time. Beep! Beep! Vroom!
Dr. Fauci: How a Boy from Brooklyn Became America's Doctor by Kate Messner
This engaging narrative, which draws from interviews the author did with Dr. Fauci himself, follows Anthony from his Brooklyn beginnings through medical school and his challenging role working with seven US presidents to tackle some of the biggest public health challenges of the past fifty years, including the COVID-19 pandemic. Extensive backmatter rounds out Dr. Fauci's story with a timeline, recommended reading, a full spread of facts about vaccines and how they work, and Dr. Fauci's own tips for future scientists.
Emily, Assistant Director:
Everyone in This Room Will Someday Be Dead by Emily Austin
I heard this book is perfect for fans of Eleanor Oliphant is Completely Fine, which is one of my favorite books to come out in recent years, so I'm very excited to get my hands and eye on it. Like Eleanor, the protagonist Gilda is quirky and loveable who battles anxiety. Despite its ominous title, this book promises to be funny and have a hopeful ending, so it sounds like the perfect book to enjoy on a summer afternoon.
World Travel: An Irreverent Guide by Anthony Bourdain
I only read a few sections of this book while I was cataloging it, but I already fell in love with it. It takes me back to watching Bourdain's travel show and wanting to go everywhere he went. His writing style is engaging and captivating and will make you feel like you're traveling the world with him. Travel lovers and foodies alike will be delighted!
Gabriel, Reference Librarian:
The next highly-anticipated thriller from internationally best-selling author, B. A. Paris, is scheduled to release mid-July 2021. The Therapist is another domestic thriller, in the same wheelhouse as Behind Closed Doors, and one that I am particularly excited for. Alice and Leo have found the home of their dreams and move in together, after being in a long distance relationship for over a year. The house, beautifully maintained and newly renovated, sits in a swanky gated community named simply The Circle. As the couple gets settled, they begin to have uneasy feelings about the other residents of The Circle, and they learn about the tragic events that transpired in their new home. Quickly the veil of perfection fades away as Alice struggles to find the truth and what exactly her new neighbors are hiding in this fast-paced thriller.
Everyone Knows Your Mother Is a Witch by Rivka Galchen
For a good dose of historical fiction this summer, I am really looking forward to reading this new title from Rivka Galchen. Based off of real events from the life of innovative mathematician and scientist, Johannes Kepler, Galchen offers a humorous and endearing dramatization of history. Suddenly, at the height of his career as the Imperial Mathematician during the 17th century, Kepler's aging mother is accused of being a witch by a troublesome woman in town. The rumor begins to spread like wild fire, with more and more townsfolk coming out with "evidence" to support the accusation. Witch hunt hysteria is in full effect and truth is in the eye of the beholder in this eerily relevant read from Galchen. Released in mid-June, this book is already ripe for the picking and available at our library!
Gloria, Reference Librarian:
The Woman They Could Not Silence: One Woman, Her Incredible Fight for Freedom, and the Men Who Tried to Make Her Disappear by Kate Moore
I really enjoyed Moore's last book, Radium Girls, which was really well researched and endlessly fascinating (you should read that one too). Moore's new book tells the story of Elizabeth Packard, a mother of six who was involuntarily committed to an insane aslyum by her husband to "keep her in her place" in the 1860s. It chronicles Packard's time in the asylum, her battle to free herself, and her fight against the American legal system to change laws for women and the mentally ill nationwide.
People We Meet on Vacation by Emily Henry
This is the story of Alex and Poppy, best friends who always take a summer vacation together. After a mysterious incident two years ago the two have drifted apart, but Poppy proposes one last trip to try to save their friendship. Chock full of romance novel tropes, this is a funny summer romance novel to balance out my non-fiction pick! This one has rave reviews and I can't wait to read it.
Melissa, Reference and Young Adult Librarian:
Instructions for Dancing by Nicola Yoon
Whenever Evie sees a couple kiss, she gets a vision of how their relationship will end. She doesn't believe in love, until she meets X in her dance class and enters a dance competition with him.
The Box in the Woods by Maureen Johnson
Now that she's solved her first murder, Stevie goes to summer camp to investigate four unsolved murders from 1978 in the latest Truly Devious book.
Phil, Reference Librarian:
Somebody's Daughter: A Memoir by Ashley C. Ford
When trying to figure something that will be popular this summer, I consulted five sites suggesting hot 2021 summer reads. This book was on four of them. This memoir tracks Ford's impoverished youth and adolescence in Indiana, and shares her struggles growing up with a single mother as she grapples with her changing body, painful relationships, the truth of her identity, and understanding her incarcerated father.
The Case of the Murderous Dr. Cream: The Hunt for a Victorian Era Serial Killer by Dean Jobb
If you don't trust doctors now, then will we have the book for you! For fans of Erik Larson's The Devil in the White City and true-crime lovers in general, this creepy book discusses Dr. Thomas Neill Cream, a Victorian doctor known for murdering ten "patients" at a time when police didn't believe in science to solve cases and physicians were still figuring out medical science to save people. Put down the poison and pick up this book.
Sherril, Reference Librarian:
Malibu Rising by Taylor Jenkins Reid
The author of Daisy Jones and the Six and The Seven Husbands of Evelyn Hugo brings a new page-turning story about one unforgettable night in the life of a family. Four famous siblings throw an epic party to celebrate the end of the summer. But over the course of twenty-four hours, their lives will change forever, each sibling has to choose what they will keep from the people who made them . . . and what they will leave behind.