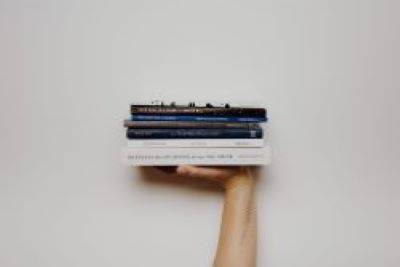 Need some distraction from this anxiety-inducing time in our lives? Here are a few humorous YA books to brighten up your day!
Beauty Queens by Libba Bray
From the Printz Award-winning author of A Great and Terrible Beauty and Going Bovine. Fifty contestants in the Miss Teen Dream Pageant crash on a desert island leaving the survivors stranded with little food, little water, and practically no eyeliner.
What's a beauty queen to do? Continue to practice for the talent portion of the program - or wrestle snakes to the ground? Get a perfect tan - or learn to run wild?
Welcome to the heart of non-exfoliated darkness. Your tour guide? None other than the hilarious Libba Bray!
Hitchhikers Guide to the Galaxy by by Douglas Adams
Seconds before Earth is demolished to make way for a galactic freeway, Arthur Dent is plucked off the planet by his friend Ford Prefect, a researcher for the revised edition of The Hitchhiker's Guide to the Galaxy who, for the last fifteen years, has been posing as an out-of-work actor.

Together, this dynamic pair began a journey through space aided by a galaxyful of fellow travelers: Zaphod Beeblebrox—the two-headed, three-armed ex-hippie and totally out-to-lunch president of the galaxy; Trillian (formerly Tricia McMillan), Zaphod's girlfriend, whom Arthur tried to pick up at a cocktail party once upon a time zone; Marvin, a paranoid, brilliant, and chronically depressed robot; and Veet Voojagig, a former graduate student obsessed with the disappearance of all the ballpoint pens he's bought over the years.

Where are these pens? Why are we born? Why do we die? For all the answers, stick your thumb to the stars!
Lady's Guide to Petticoats and Piracy by Mackenzie Lee
A year after an accidentally whirlwind grand tour with her brother Monty, Felicity Montague has returned to England with two goals in mind—avoid the marriage proposal of a love-struck suitor from Edinburgh and enroll in medical school. However, her intellect and passion will never be enough in the eyes of the administrators, who see men as the sole guardians of science.
But then a window of opportunity opens—a doctor she idolizes is marrying an old friend of hers in Germany. Felicity believes if she could meet this man he could change her future, but she has no money of her own to make the trip. Luckily, a mysterious young woman is willing to pay Felicity's way, so long as she's allowed to travel with Felicity disguised as her maid.
In spite of her suspicions, Felicity agrees, but once the girl's true motives are revealed, Felicity becomes part of a perilous quest that leads them from the German countryside to the promenades of Zurich to secrets lurking beneath the Atlantic.
A must-have for fans of Mackenzi Lee's extraordinary and Stonewall Honor-winning novel.
Me, Earl & the Dying Girl by Jesse Andrews
Sundance U.S. Dramatic Audience Award
Sundance Grand Jury Prize

This is the funniest book you'll ever read about death.

It is a universally acknowledged truth that high school sucks. But on the first day of his senior year, Greg Gaines thinks he's figured it out. The answer to the basic existential question: How is it possible to exist in a place that sucks so bad? His strategy: remain at the periphery at all times. Keep an insanely low profile. Make mediocre films with the one person who is even sort of his friend, Earl.
This plan works for exactly eight hours. Then Greg's mom forces him to become friends with a girl who has cancer. This brings about the destruction of Greg's entire life.
Fiercely funny, honest, heart-breaking—this is an unforgettable novel.